P-Splitter II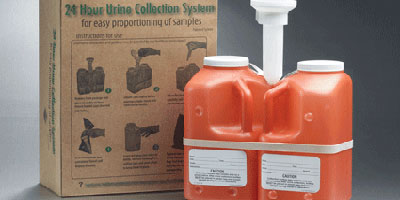 Design style:
24 Hour Collection
Certification:
U.S.P. Class VII
Medical grade resin
Chemically inert
Out Patient labeled
Features:
Faster - two collections can occur in the time it takes for one with ordinary urine containers.
Safe - easy for patients to use.
Secure-thick walls prevent loss of sample from breakage or dropping.
Polyethylene amber jugs protect urine from UV damage.
General Information
P-Splitter II™ from Helena Plastics improves on an already great product. The new 2 liter keyed bottles are much more stable than our previous model and with their keyed sides they now stay firmly oriented and locked together.


P-Splitter II Solves an Old Problem
This occurs when more than one assay is needed for a single 24 hour urine sample and the assays require different preparations or preservatives. Unlike the usual method of collecting samples over two days the P-Splitter II™ lets you reduce the time it takes to collect samples and speeds the diagnosis and treatment process.
P-Splitter II is Convenient
Understanding and using P-Splitter II is convenient for patients. And since their treatment can begin a full day earlier you assure better care.
Cost
P-Splitter II is provided with everything you need to collect a 24 hour sample. You save staff time since labels, packaging and transport accessories are provided in a neat assembly. Since P-Splitter™II is perfect for outpatient use you don't need to ensure compliance by admission.
+1 (800) 227-1727
info@helenaplastics.com