Mailing Tubes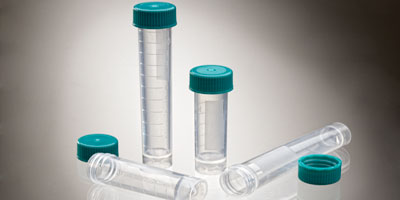 Design style:
Conical Bottom
Certification:
U.S.P. Class VII
Medical grade resin
Chemically inert
IATA 95kPa certified
Features:
Pressure tested - can be used for air transport safely.
Clear - extra clear resin shows contents.
Secure-thick walls prevent loss of sample from breakage or dropping.
Polyethylene is chemically safe.
In 5mL or 10mL sizes.
General Information

Leakproof freestanding mailing tubes with screw caps feature graduations at 1 ml increments
and a large frosted writing surface for convenient labeling and identification. Each tube is
molded from durable polypropylene, has a conical bottom, and a wide skirted base.
Polyethylene screw caps are included. Tubes are autoclavable (122°C) and lab tested and
certified to the IATA 95kPA standard for safe shipping of samples.
+1 (800) 227-1727
info@helenaplastics.com