Microcentrifuge Tubes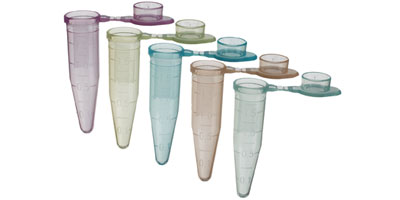 Design style:
Conical Bottom
Packaging:
Resealable Bags
Certification:
U.S.P. Class VII
Medical grade resin
Pyrogen Free
Rnase/Dnase Free
Features:
Medical grade pretested resin - can be used for most procedures.
Clear - extra clear resin shows contents.
Polypropylene is chemically inert.
In 1.5mL or 0.65mL sizes.
General Information

Our super clear tubes have ultra-smooth polished interior surfaces that won't adhere to most proteins and are clear enough to be used in a spectrophotometer. They also use one of our pre-tested resins so you don't have to worry about extractables in the resin that can interfere with your ability to detect DNA.


These tubes have a 90 degree hinge that is much easier to close and open than most centrifuge tubes. This hinge paired with our unique plug design make this tube easy to open and close even though it seals better than most tubes.

Our microcentrifuge tubes use half as much plastic as most popular brands of tubes. This can save hundreds of pounds of plastic in a typical lab every year.
Most other tubes are made from low cost commodity grade resins or recycled plastics that have been reground and used again. They also often include a clarifying agent to improve their clarity. Those tubes need thick walls in order for their poor quality resin to be strong enough to centrifuge at 15,000 x G.
Our tubes are made from our special pure virgin resin that needs less material to be just as strong as other lower quality tubes.
+1 (800) 227-1727
info@helenaplastics.com